Education Policy Fellowship Program (EPFP)TM is IEL's long-standing program, designed to active leaders for equity. With over 10,000 alumni from across the country, EPFP's mission is to engage a diverse and collaborative community of strategic leaders to promote equitable education policy.  Our alumni are leaders across PreK-higher education pathway and complementary sectors.
Apply today to participate in the Education Policy Fellowship Program (EPFP), a 10-month professional development program for emerging and mid-level leaders. EPFP combines regular meetings and activities specific to each of our state based site programs with events of national scope to provide an enriching experience for many Fellows each year. To apply, click here to find the EPFP site nearest you. 
The 3 Pillars: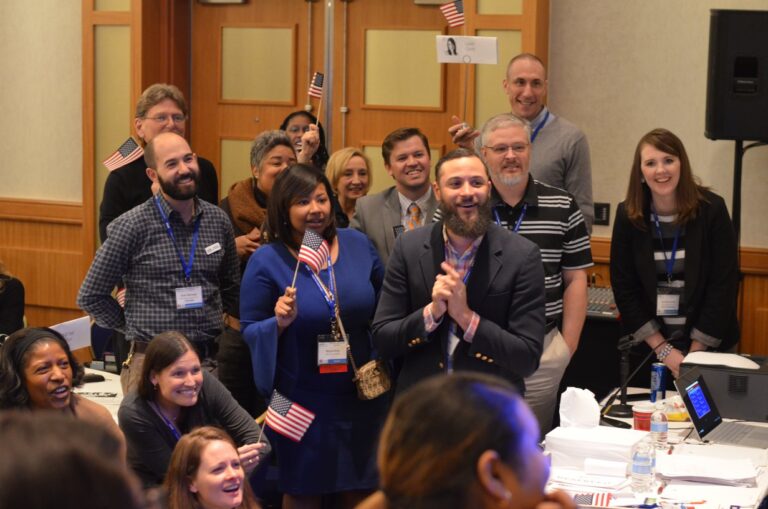 EPFP History: Almost 60 Years of Developing the Leaders for Education We Need
The Education Policy Fellowship Program (EPFP) has evolved over time since its creation in 1964 with funding from the Ford Foundation. The program began as a response to the explosive growth of the federal government's role in education as a result of the enactment of the Elementary and Secondary Education Act (ESEA) and related legislation. The transformed role of the federal government generated a need for education professionals in the states who understood the content of legislation, the policy process, and the complex changes that state systems were undergoing as a result.
Each site develops a program tailored to local policy culture, conditions, and needs. Three program strands –leadership, public policy, and professional networking – organize the learning in EPFP. Each strand contains concepts, materials, and tools that sites can implement in a manner designed to fit local circumstances. Each site offers a different emphasis and mix of activities to implement each program strand. Select your location to learn more about the program and application information for your nearest site.
There are over 10,000 alumni across 50 states! The Education Policy Fellowship Program is pleased to offer continuous learning and professional development opportunities to alumni and partners. 
Washington Policy Seminar (WPS)
The Washington Policy Seminar (WPS) is the capstone event of the IEL's Education Policy Fellowship Program (EPFP), the Fellows' front row seat to inside the beltway look at federal education policy and national landscape. The 2023 year marks our 59th annual WPS! The upcoming WPS will be open to IEL's 2022-23 EPFP cohort of Fellows. Current Fellows will be able to register starting in December and will receive registration priority.