This report highlights policy wins from IEL's inaugural Policy by the People agenda during the 117th Congress. The Policy by the People agenda was co-designed and developed from direct input via surveys and focus groups of hundreds of leaders across IEL's networks whom we engaged in 2020.
Education
The Coalition for Community Schools, including national, state, and local partners, successfully advocated for increased federal funding for the Full-Service Community Schools program by 300% over two years. Community Schools were funded at $75 million for FY22, an increase of $45 million over the approved budget from the previous fiscal year. In FY21, Community Schools were funded at $30 million, a 20% increase from the approved level of $25 million in FY20. Additionally, due to the effective advocacy of the Coalition, the House Appropriations Committee approved $468 million for Full-Service Community Schools for FY 23 and added a first-ever $10 million line-item for Integrated Student Supports. The FY 23 federal budget is still in negotiations-however, these increases mark significant progress.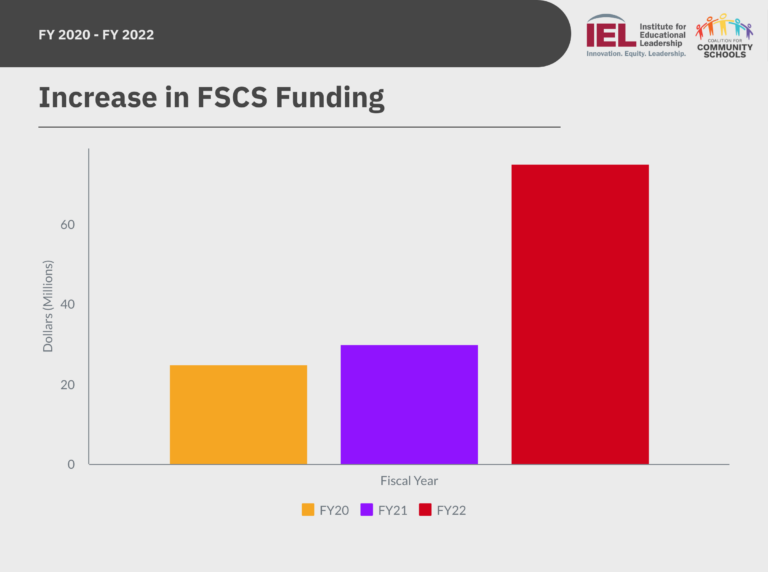 The Coalition for Community Schools led the way, including through a sign-on letter supported by over 100 national, state, and local partners, in successfully including Full-Service Community Schools as an allowable use of spending for districts in the American Rescue Plan legislation of 2021.
IEL partnered to effectively advocate for funding increases to Title IV-A/Student Support and Academic Enrichment Grants and Nita M. Lowey 21st Century Community Learning Centers in the Every Student Succeeds Act. In FY22, Title IV-A/Student Support and Academic Enrichment Grants funding rose to $1.28 billion, an increase of $60 million from FY21. 21st Century Community Learning Centers funding grew to $1.29 billion, an increase of $30 million from FY21.
IEL supported the passage of the Bipartisan Safer Communities Act of 2022, which invests in school-based mental health programs and staffing, expands access to telehealth services for children, provides $1 billion in Title IV-A funding for improving conditions for student learning, and appropriates $240 million to train school personnel in trauma-informed practices and behavioral health awareness.
IEL supported the Biden-Harris Administration's executive action to forgive up to $20,000 in student debt, extend the payment moratorium until December 31, 2022, and cap loan payments at 5% of a borrower's monthly income.
Workforce Development
IEL backed the expansion of funding for the OJJDP Youth Mentoring Grant Program through coalition participation and signing on to Congressional letters. The program funding for FY22 increased to $102 million, a $2 million increase over the FY21 approved level.
IEL's Ready to Achieve Mentoring Program (RAMP) was recognized in OJJDP's June 2021 newsletter showing the effectiveness of RAMP as a federal grant recipient.
IEL signed onto letters to increase federal funding for home and community-based services and to expand eligibility for ABLE Accounts, including through advocating for the ABLE Age Adjustment Act (S. 331/H.R. 1219), to expand the eligibility threshold for the onset of disability from prior to age 26 to prior to age 46.
IEL supported the phasing out and removal of the Section 14(c) subminimum wage provision of the Fair Labor Standards Act, including through the Transformation to Competitive Integrated Employment Act.
Foundational Supports
IEL, as part of a broad coalition, successfully advocated to increase funding to the E-Rate program as part of the Emergency Connectivity Fund in the American Rescue Plan, providing $7.17 billion for schools and libraries to provide internet connectivity to children to participate in distance learning programs. By October 2021, E-Rate had provided internet services to approximately 8 million students.
IEL worked to reduce child poverty by signing on to letters supporting the historical expansion of the Child Tax Credit in the American Rescue Plan. The Child Tax Credit helped 40 million families across the country and reduced child poverty, especially for Black and Hispanic children, to record lows in 2021.