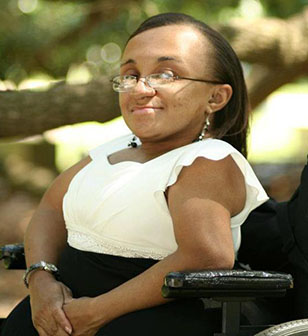 My name is Vilissa, and I am proudly a member of the ADA Generation.
I started Kindergarten in 1991, a year after the enactment of the Americans with Disabilities Act. Entering the public education system at the same time that the ADA was passed was fateful and provided me with a number of opportunities. Without the ADA, I would not have had the academic, and later professional, success I now take for granted.
Being a disabled African American female, I know how my identities create a triple jeopardy situation when it comes to education—those who "look" like me that lived in rural towns in the South were not always given the chance to attend school. As my grandmother repeatedly told me growing up, "Children like you didn't go to school when I was your age—you stayed at home." My grandmother is a member of the Silent Generation; she knew many disabled persons who did not go to school because they were thought to not need an education and/or accommodations were not made available. It always amazed me that we as a people were denied this right simply because we were disabled. How many brilliant, creative, and passionate movers and shakers remained at home because they were not allowed to attend school, and thus not given the chance to share their gifts, talents, and thoughts with the world?
The ADA provided the chance for me to share my gifts with the world – my voice as a disabled woman of color advocate, my gift of writing, and my ability to share my story through presentations at conferences and public meetings. Without the ADA, I would not have graduated from high school as class valedictorian or obtained bachelor's and master's degrees, or aspire to attend law school next year, become a children's book author, or be an entrepreneur.
The enactment of the ADA would not have been possible without the tireless advocacy efforts of those who came before me; I owe it to them to carry the torch that was lit from their fervent demand for equality, justice, and acceptance. On a personal level, I am indebted to my Grandmother who ensured that I received a quality education and healthcare during a time when such rights were in their infancy. Though she was not very knowledgeable about the laws, she knew that I deserved the same opportunities as everyone else, and her determination, unconditional love, and support were instrumental to my growth as a disabled young girl.
I am a proud member of the ADA generation because my life would have turned out completely different if this law had not existed. I will never take for granted the rights I have, and I am fighting to expand them further. The ADA marked the beginning of true societal inclusion and acceptance, and it is up to us to continue the work that lies ahead. As a disabled advocate, I am passionate about leaving my "tire track" on the disability rights movement because it is my calling to do so.